Wine Cocktail Wednesday: Blushing Beauty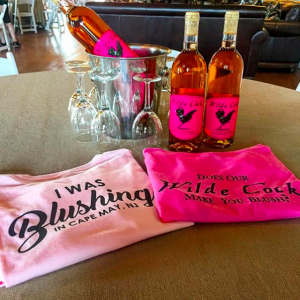 INGREDIENTS:
1 Tablespoon + 3/4 teaspoon unflavored gelatin (2 packets)
1 C water, divided
1 C sugar
1 bottle Wilde Cock Blush
DIRECTIONS:
Sprinkle the gelatin over ¼ cup of the water in a small bowl. Set aside for a few minutes to rehydrate.
Combine the remaining water and the sugar in a small saucepan over medium heat and stir until the sugar is dissolved. Remove from the heat.
Add the gelatin to the sugar syrup and stir to dissolve. Combine with the wine in a medium mixing bowl or a 9-inch square baking pan. Refrigerate for 3 hours, until set.
Serve with fresh whipped cream and berries!