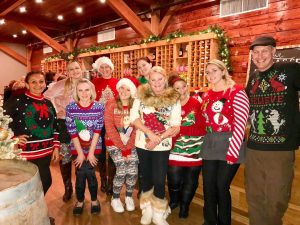 Baby, it's cold outside. Let us warm you up.
Do you feel that? It's the chill you can't get out of your bones as we slip into the grips of winter. After a bustling fall and bountiful harvest, our team and vines are ready to win(e)d down for a long winter slumber. But there's no time to rest with all the activity happening at our farm year-round! Check out our recap of this fall and some of our plans for what promises to be an amazing winter season down at the farm!
Book Now!
New Wines Released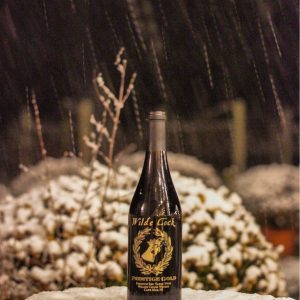 If you missed out on the release of six new Estate wines this fall, winter is the perfect time to catch up! What's better than cozying up next to the fireplace with your favorite glass of Cabernet, Merlot, or (my favorite) Chambourcin? The always popular Wilde Cock Prestige Gold has returned at long last, and this blend is sure to delight the senses and satisfy your desire for the perfect winter red. A blend of our 2015 Cabernet Sauvignon with 2012 Tempranillo from our farm friends in California, this wine truly deserves the "Gold." Low in both sugar and acidity, our Gold is a spicy dry red with a deep color, aroma of berries, and flavor of tobacco, vanilla, and leather. To check out our current wine list, click HERE.
A Beautiful Fall Wedding Season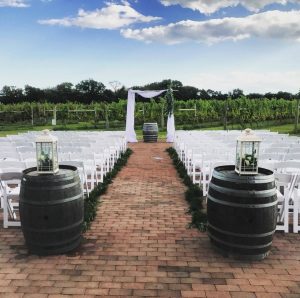 Nothing compares to the knowledge that you played a role in creating someone's perfect "happily ever after," and we are unbelievably blessed to have known that feeling many times the past fall. Read about the experience of one of our amazing couples, Danielle and Josh, here.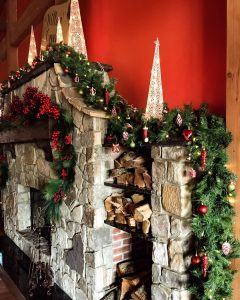 Are you in the process of planning your own celebration? Be sure to fill out our event inquiry form.
Christmas Time at the Farm
Our team worked extra hard this year to make our already beautiful winery a true sight to behold. Hours were spent decking the halls with garland and lights, and we enjoyed fresh Christmas trees, wreaths, and garland from the incredible farmers at our sister property, LeGates Farm Market in North Cape May. Our team took the holiday spirit to the streets by entering the West Cape May Community Christmas Parade and grooving along to Marvin Gaye's "I Heard It Through The Grape Vine." We later celebrated the season with our guests at our First Annual Fire Pit Friday Ugly Christmas Sweater Party on December 22nd.
"Sip & Shop Holiday Love Drive" and "Paws & Pinot"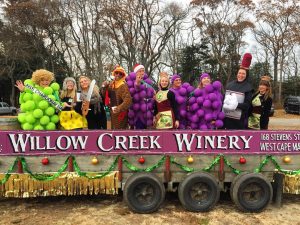 This December, we celebrated our Fifth Annual Sip & Shop Holiday Love Drive and Third Annual Paws & Pinot. Together, the two events helped bring in nearly 2,000 items of food, pet supplies, and toys combined. These two events were a truly impressive example of the good that a united community can create. Thank you so much to everyone who reminded us of the reason for the season and helped us achieve such a successful result.
Book Now!
Comedy UnCorked
Our always popular Comedy UnCorked wine-paired dinner and comedy show series has returned and is sure to help you fend off the wintertime blues. The series runs once monthly, November-April, and features a three-course, wine-paired dinner and comedy show starring a different group of hilarious NY comedians each month. Tickets often sell out weeks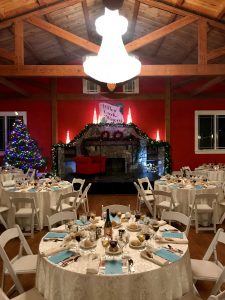 in advance as this is an event not to miss!
Book Now!
Tickets are only $65 per person (dinner, wine, AND a show!!) and must be purchased in advance either online or by calling our winery at 609-770-8782 ext. 5.
Rated MA for Mature Audiences – Must be 21 years of age to attend. The easily offended should stay home for this event.
Fire Pit Friday is the only way to start a weekend in Cape May
Join us as we welcome some of the area's most talented musicians performing live at the winery. Enjoy a wine tasting or glass of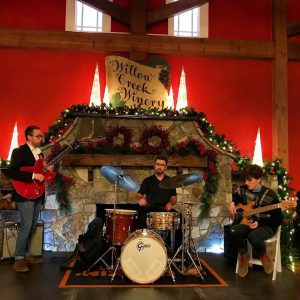 wine or sangria prior to taking a seat and ordering some of our delicious tapas while listening to incredible local performers. When you're finished, grab a seat outside by the fire pit, and take in the vineyard sky above with all those that you love.
Live music is from 6pm-9pm inside the winery, and seats fill up very fast!
Reservations are strongly suggested for guaranteed indoor seating. Feeling spontaneous? You can also enjoy our (heated!) Outside Wine Bar, which features our full menu of wines and tapas as well as many specialty wine cocktails.
Winter Saturday Night Jazz
January 6th, 13th, and 27th (4pm-7pm)
Are you a jazz enthusiast? Spend your Saturday nights this winter with us, and relax to the cool sounds of jazz! Enjoy the wine, tapas and incredible vineyard views as you soak in the sun and the sound of the talented performers.
Free admission!
HAPPY NEW YEAR FROM TEAM WILLOW CREEK!
Want to stay up to date with all things Willow Creek-related? Be sure to follow us on social media, and sign up for our newsletter to receive are weekly updates and announcements. Don't forget keep an eye on our calendar for any private event dates as well.