Wine & Paint Monday
Starting July 3rd, join us inside the beautiful Willow Creek Winery every Monday 6pm-8pm for an enchanting evening of painting along with wine!
The class is taught by Carol King Hood, a SOMA Gallery artist. Painting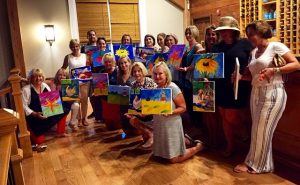 since early childhood, she had the special opportunity to study under nationally known artist, Frieda Richter from age ten to sixteen. She received training in fine art fundamentals, composition, charcoal life drawing, oil painting, in both outdoor – plein air style – and studio painting environments. After attending college, she held several positions as an Illustrator and Graphic Artist, while continuing to develop her fine arts style. While raising her four children, she also worked as a freelance artist and personally created a line of greeting cards which she has continued to develop and expand. Many of her paintings, prints and cards can now be seen on her website, www.carolkinghood.net.
Hood, a dear friend to our entire farm family and our resident artist, also has her own studio on the farm. In her "Little Renoir Studio," Hood devotes her time to her work (often accompanied by her studio cat, Mr. Fatty Renoir) and also teaches personalized classes with students of all ages, from as young as four to well into adulthood. Among her many talents is her ability to make art accessible to anyone, no matter a person's age or artistic background.
Each week will feature two of Hood's works, which students may imitate or use as inspiration for their own unique creations. The opening night class on July 3, 2017 will feature the following two paintings (the hollyhocks were painted here in our very own gardens!):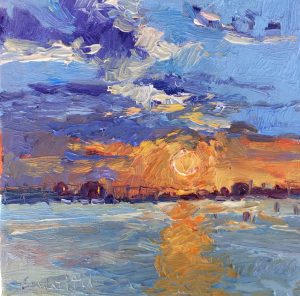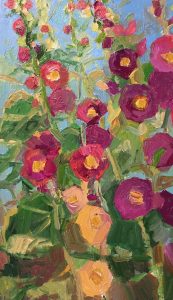 Tickets are priced at $55 including a glass of any wine or sangria. Tickets include all art supplies including paint, easel, and a blank canvas to create your own masterpiece! Our tapas menu is offered throughout the night as well as wines and sangria by glass or bottle.
Only a limited number of slots are available each week, and tickets must be purchased in advance so please call ahead to reserve your canvas.
To purchase tickets or for more information, please call 609-770-8782 ext. 5