Barbara's Favorite Flowers: Black Cotton Plant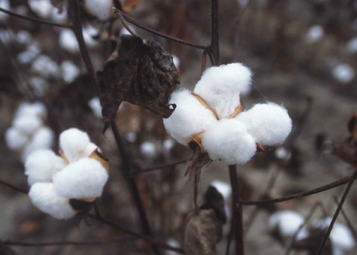 Here's what Barbara has to say about the Black Cotton Plant, Gossypium herbaceum, 'Nigra'!
This ornamental cotton is in the hibiscus family, but has eye-catching deep black/purple maple shaped leaves, stems, and at 24-30'' tall adds unusual and unforgettable color, height and interest to the garden.
She starts with Hibiscus like deep hot pink/burgundy flowers, followed by walnut size seedpods. Then wow! They split open exposing white fluffy balls of cotton contrasting against the darkest of leaves and stems. STUNNING!!!
The G. herbaceum cotton species is also called Levant cotton and is native to the semi-arid regions of sub-Saharan Africa and Arabia, where it still grows in the wild as a perennial shrub.
Cotton wants a warm soil to germinate and grow, and make sure not to over water after plants have germinated. Grow in full sun and in a rich soil. It will grow in most soils as long as they are well drained.
I plan to plant the black-leafed cotton as a specimen plant in containers, beds and borders. Maybe I will contrast it with silver lams ear, dusty miller plants, silver artichokes, purple fountain grass, yellow lantana or Cleome. In the fall, the cotton bolls can be picked off the plants and arranged into wreaths, or the plants sans foliage used as display. I feel confident that many of my gardening aficionado friends will be hot to trot for these seeds!