"Fall" in Love with Autumn at Willow Creek
Hey there all you wine enthusiasts! The fall season is now upon us, and boy did it come fast! Though the summer crowds have begun to die down, we're still just as busy as ever with harvest and wedding season in full swing in addition to all of the wonderful guests that visit our farm and winery every single day. So now that summer has officially ended, what is there to look forward to enjoying with all our your friends here at Willow Creek this fall? Check out our recap of this past summer and some of our plans for what promises to be an amazing fall season down at the farm!

Book Now!
New Wines Released
All summer long, our winemaker and cellar manager were working away in the our wine cellar (complete with a sign stating "Mad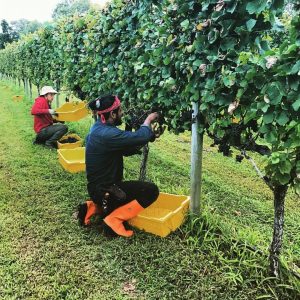 Scientists Only.") Well, their hard work certainly has paid off! This month alone, we've released six new Estate wines that we can't wait to share with you. To check out our current wine list, click HERE. On a side note, if you didn't have the chance to visit us over the summer, we've all introduced some fantastic new items to our tapas menu, which can be viewed HERE.
Grape Harvest
Mother Nature is a fickle friend to every farmer, and she certainly made this grow season tricky with the rain and high temperatures. As a result, our harvesting began quite early this year (about a month earlier than previous seasons) with our Pinot Noir, the thin-skinned "Prince" of our vineyard, being the first to go.
We have two additional harvest dates this week on Tuesday, September 26th & Wednesday, September 27th. For more details and to register, send us an email or contact the Winery at (609)770-8782 ext. 5.
With that being said, please note that due to Mother Nature's unpredictability, this may be your last chance to volunteer this season. If you would like to be on the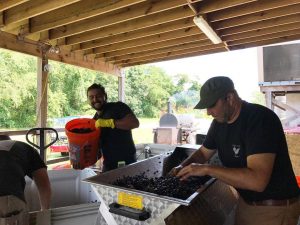 email list for future pickings, please send us an email to WillowCreekWinery@gmail.com Subject: Grape Pickers.
ONE Spirit: Body, Mind, Spirit Fair
We are very excited to be working once again with ONE Spirit to host their Body, Mind, Spirit Fair here at our farm over Columbus Day Weekend on Saturday, October 7th & Sunday, October 8th 11am-5pm. ONE Spirit connects the community with gifted holistic health practitioners including experts in reiki, massage, astrology, Emotional Freedom Technique (EFT), meditation, and chakra balancing as well as bringing together vendors, artisans, andmusicians for dynamic, positive events for the entire family. Each day there will be free music, yoga and tai chi classes and a drum circle.
Learn how to wake-up your body's own natural medical pharmacy and how to connect to a hidden world science has only recently uncovered at ONE SPIRIT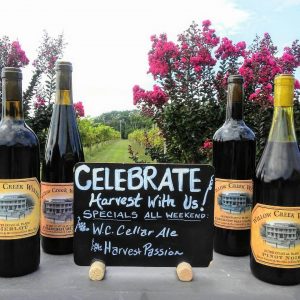 Fairs.
For more information, please contact Diane: 609.432.5644
Harvest Ball
To wrap up the bountiful season, we will be hosting our Harvest Ball on the evening of Saturday, November 18th. This is black tie (optional) four-course wine-paired dinner prepared by Master Chef Parker from the Southern Mansion of Cape May promises to be an exciting evening of wine, food, and the camaraderie that defines our Farm Family. All harvest volunteers who have participated in our weekly 3-hour grape picking sessions in September & October will receive one ticket for each session worked to attend the Harvest Ball. Keep an eye out for an announcement when tickets become available.

Book Now!
Comedy UnCorked
We are especially excited for the return of our Comedy UnCorked wine-paired dinner and comedy show series, the first show of which will be on Saturday, November 25th. The series runs once a month, November-April, and features a three-course, wine-paired dinner and comedy show starring a different group of hilarious NY comedians each month. This is an event not to miss!

Book Now!
Tickets are only $65 per person (dinner, wine, AND a show!!) and must be purchased in advance by calling 609-770-8782 ext. 5.
Rated MA for Mature Audiences – Must be 21 years of age to attend. The easily offended should stay home for this event.
Want to stay up to date with all things Willow Creek-related? Be sure to follow us on social media, and sign up for our newsletter to receive are weekly updates and announcements. Don't forget keep an eye on our calendar for any private event dates as well.