Spend Father's Day with Us!
What are your plans for Father's Day? At Willow Creek Farms & Winery, we'll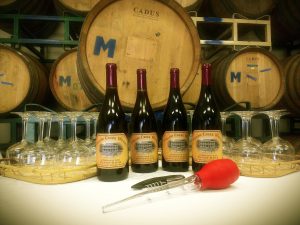 be celebrating dad's big day with numerous events throughout the day!
Are you a winemaker or meatball enthusiast with an amazing secret recipe? If you think you are up for the challenge, join us for our 2nd Annual Amateur Winemakers and Meatball Competitions!
Our Amateur Winemakers Competition is an awesome opportunity to enter your very own wines (red/white/sweet/fortified) for a chance to win some awesome prizes, including the grand prize of a Private Wine Tasting and Cheese Party for 10 Guests! Sounds like my type of party! And for every wine sample that is submitted, participating winemakers will receive a voucher for one person for our Pasta Sunday dinner (valid through September)! Yum!!!
Another way to celebrate dad is with our Meatball Competition. Yes, we said meatballs! You can submit your famous meatballs (business or homemade categories), for our judging panel of foodies and fat guys! If these guys think your meatballs are "all that and a bag of chips," you could be the winner of a Private Wine Tasting and Cheese Party for 6 Guests! Are you up for this meaty challenge?
What better way to end a day filled with laughter and fun than to join us for our Pasta Sunday! Treat dad for a glass (or 3) of our specialty wines alongside our delicious pastas and homemade sauces. On your way out, make sure to grab one last gift for dad from our gift shop. He's sure to love one of our brand new "Does Our Wilde Cock Make You Blush?" shirts, specially released alongside our newest wine, Wilde Cock Blush.
Reservations are strongly suggested for all visits to our farm. Call 609-770-8782 ext. 5 for reservations.
For more information on how to enter our Amateur Winemakers and Meatball Competitions, please email us at WillowCreekWinery@gmail.com