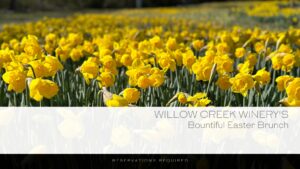 Spring has come to the vineyard. The vines are getting green and daffodils are popping up all over. Where better to celebrate Easter with the family than in these glorious surroundings with a Bountiful Easter Brunch at Willow Creek Winery.
Seating is limited and reservations are required. Our full wine & sangria list will be available including our delicious Dole Whip Sangria Floats, Wilde Cock Mimosa Pitchers, and many more specialty wine cocktails to pair with brunch!
Reservations Required.
Seating starts at 9am, last seating starts at 3pm.
---
MENU
Adults
$50 – Includes Tea & Coffee, Juice, 3-Course Brunch
Starters
Blueberry Muffins | fresh baked
Avocado Toast | crostini | guacamole | tomato | fresh mozzarella | basil | vinaigrette drizzle
French Toast Sticks | crispy | served with maple syrup
Caesar Salad | classic romaine salad | parmesan | brioche croutons
Willow Salad | romaine | marinated olives | artichoke hearts | tomato | cucumber | carrot | brioche croutons | feta dressing
Jersey Peach Salad | arugula | preserved Jersey peaches | goat cheese | walnuts | raspberry vinaigrette
U-peel Shrimp | South Jersey shrimp boil | cocktail sauce | lemon
Entrées
Truck Stop | eggs any style | home fries | choice of bacon, brisket hash, or chicken sausage
All American Omelet | onions | peppers | ham | cheddar cheese
Blueberry Hotcakes | served with maple syrup
French Toast a la Bananas Foster | homemade bananas foster toping
Willow Burger | fire-grilled | served on a Bavarian pretzel roll | bean sprouts | guacamole | tomato | sriracha mayo | cheddar cheese | fries | coleslaw
Pulled Pork | dry-rubbed pork shoulder | slow smoked | marinated in housemade honey-mango BBQ sauce | served on a Bavarian pretzel roll | fries | coleslaw
Dessert
Viennese Dessert Table
Children 10 and under
$25 – (Includes Juice and 2-Course Brunch)
Entrées
Scrambled Eggs | home fries
Cheese Pizza | housemade tomato marinara | shredded mozzarella
Chicken Fingers | fries
Pancakes | served with maple syrup
Dessert
Viennese Dessert Table