Upcoming Events
In town for the week and not sure what to do? Have no fear! There's always something happening down at the farm!
Weekly Happenings
UnWine Yoga Series
Fridays at 10:00 a.m. through May 25th
Enjoy a one-hour yoga class taught by local yoga experts followed by a delicious glass of our specially crafted Wilde Cock Southern Sangria!
Willow Creek Winery will be holding this event every Friday at 10:00 a.m. through May 25th. Tickets are only $20 per person + tax (includes one-hour class and post-savasana glass of sangria)
Fire Pit Fridays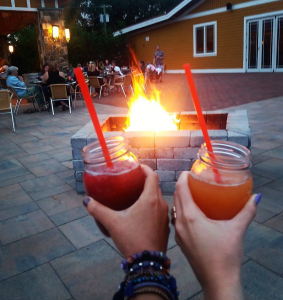 Year-round fun from 5:30 p.m. to 9:30 p.m.!
Join us as we welcome some of the area's most talented musicians performing live at the winery. Enjoy a wine tasting or glass of wine or sangria prior to taking a seat and ordering some of our delicious tapas while listening to incredible local performers. When you're finished, grab a seat outside by the fire pit, and take in the vineyard sky above with all those that you love.
Live music is from 6:00 p.m.-9:00 p.m. inside the winery, and seats fill up very fast!
RESERVATIONS ARE REQUIRED FOR GUARANTEED SEATING!
Please give us a call at 609-770-8782 or email us at Info@WillowCreekWineryCapeMay.com to be sure we are not closed for a private event.
Upcoming Events
Cape May Music Festival Concert
Featuring BAILEN
Thursday, May 31st at 8:00 p.m. ~ Doors open for Wine & Tapas at 6:30 p.m.
This innovative group is comprised of 25-year-old twins, Daniel and David Bailen, who play and sing three-part harmony with their 19-year-old sister, Julia, and childhood friend, Pierre Piscitelli (the only "non" Bailen in the band). They have performed internationally and have garnered a faithful following within the London and NYC folk scenes as well as on college campuses throughout the Northeast. The three siblings have been writing songs and performing since they can remember, while touring with their parents, who are both professional NYC freelance musicians.
General Admission ~ $25
Senior ~ $20
Students ~ $10
Advance tickets are recommended and can be purchased directly through the Mid-Atlantic Center for the Arts HERE
Our Island Winery Is Open Everyday, Year Round At 11am.
RESERVATIONS ARE STRONGLY SUGGESTED FOR ALL VINEYARD VISITS
Our farm is open everyday all year round for vineyard tours, private group tastings, wine tastings, and private events for up to 300 guests. We host many closed to the public events so reservations or calling ahead is always suggested, especially on the weekends.
For More Info Please Call Us At 609-770-8782