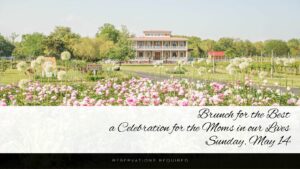 Celebrate Mother's Day in the middle of our green and gorgeous vineyard and treat your family to the Brunch for the Best, a Celebration for the Moms in our Lives at Willow Creek Winery. What better way to show the amazing mom in your life your appreciation for everything she does?
Seating is limited and reservations are required.
Our full wine & sangria list will be available including our delicious wine-infused Dole Whip Sangria Floats, Wilde Cock Mimosas, and more specialty wine cocktails to pair with brunch!
Adult – $50 | Child Under 10 – $25
Appetizer (choose 1)
Smoked Salmon Salad: Home-smoked salmon with diced tomato, onion & capers topped with a spiced-olive oil dressing

Crab Salad: Fresh crab on a salad of Arugula, sun-dried tomato, grape tomatoes & cucumber dressed with a honey vinaigrette

Caesar Salad: Crisp Romaine lettuce dressed with parmesan cheese, homemade croutons & Caesar dressing

Willow Salad: Crisp Romaine lettuce with marinated artichokes, tomatoes, cucumber, carrot, olives & croutons dressed with Greek-style Feta dressing

Shrimp Cocktail: Jumbo shrimp steamed to perfection in our special boil served with cocktail sauce and lemon

French Toast Sticks served with maple syrup

Muffin
Entree (choose 1)
Crab Benedict: Crab meat paired with poached egg & Hollandaise sauce topped over an English muffin

Brisket Hash: Poached eggs on top of our special brisket hash topped with Hollandaise sauce

Designer Omelet: Fresh omelet filled with prosciutto, Asiago cheese, onions & bell peppers

Strawberry Stuffed Toast: Brioche French Toast stuffed with strawberry mascarpone topped with fresh strawberries & strawberry coulis, served with maple syrup

Hot Cakes: Homemade hot cakes topped with fresh strawberries & strawberry coulis, served with maple syrup

Not So Basic Breakfast: Eggs any style paired with homemade home fries and a choice of applewood bacon, brisket hash or chicken sausage

Chicken Cordon Bleu Sandwich: Crispy chicken breast fried golden brown with sliced ham and swiss cheese, served with french fries and coleslaw

Willow Burger: Ground angus beef patty on a pretzel roll topped with cheddar cheese, guacamole, sweet pea sprouts, tomato & sriracha mayo, served with french fries and coleslaw

Honey Mango Pork Sandwich: 16-hour smoked pork mixed with our homemade honey mango BBQ sauce on top of pretzel roll, served with french fries and coleslaw
Viennese Dessert Table