Tastings & Tours
Reservations Strongly Suggested for all Visits
Willow Creek Winery is open every day at noon, all year round for our full grill menu, wines by the glass, bottle or case, special events, and weddings. Just biking distance from Cape May, we offer a beautiful place to escape for a glass of wine or sangria and our delicious grill menu. Stunning views from our patios and porches overlooking the vineyard make this the perfect place to UNWINE any time of the year…
Please check our Event Calendar for closing times and information about special happenings at the winery!
Group Wine Tastings $55 per person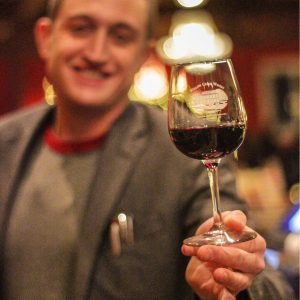 Enjoy a seated educational wine tasting while enjoying small samplings of 3 different released wines that we have in stock. Learn about our wines, our vines, and the beauty we find in the vine to wine process. (30 minutes)
Book online now!
Table Flights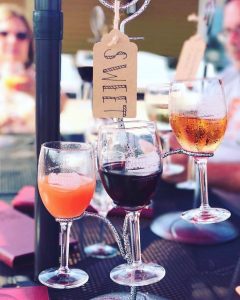 Sit back, relax, and enjoy a self-guided tasting of three wines served directly to your table!
Whether you've already experienced our educational tastings or are more interested in relaxing at a table while leisurely sipping on a few wines at your own pace, this may be the perfect option for you. Our table flights feature three 3-oz pours delivered by a server directly to your table in a stylish tasting tree. Each flight is designed to highlight a particular grouping of our wines such as our Dry Reds, Whites, Sweets, or Estates. The categories change frequently as our wine selections vary throughout the year.
Vineyard Tour – COMING SOON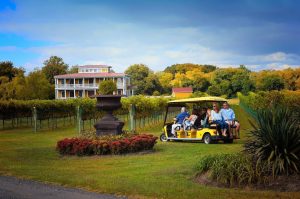 Hop aboard our eco-friendly electric tour cart and enjoy a 45-minute tour with one of our farm to wine enthusiasts. Relax as you make your way through the vineyard as we teach you about the rich history of our 50-acre farm, the types of grapes that we grow, and the unique micro-climate the Cape May Island offers. Learn about our old world grape varietals as well as our other sustainable agricultural products and beautiful gardens that our farm offers. Be sure to bring your cameras as we promise it will be worth it any time of the year.
Tours are weather permitting and subject to change. Please call for scheduled times.
Grab a Bite and Stay a While!
We also offer Chef Brian's delicious grill menu to complement our wines. You can check out our full grill menu here.
The Perfect Place To Host A Private Winery Event
Whether it is a small party of 40 or a large wedding of 400 guests you will find no better place where rustic elegance meets delicious wines and sangria and an incredibly talented catering team.
For more information on hosting a private event, please fill out our PRIVATE EVENT INQUIRY.
To view our full wine menu, please CLICK HERE.