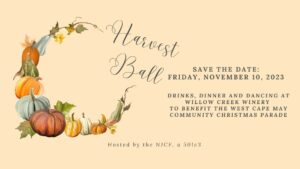 SAVE THE DATE: The New Jersey Farmers Cooperative (a 501c3) is hosting a weekend of dinner, drinking, dancing and shopping on Friday, November 10 – Sunday, November 12 to celebrate and benefit the beloved Borough of West Cape May Community Christmas Parade.
On Friday, November 10 join the NJFC at Willow Creek Winery for a fundraising Harvest Ball. More information will be coming soon to reserve your tax-deductible seat or table. If you would like to be added to the waitlist DM us or email info@willowcreekwinerycapemay.com.
Celebrating our island traditions is what makes this community so special and events like the Community Christmas Parade need your support to continue. So mark your calendars to join in on these amazing celebrations and support this beautiful island Borough and its special community-building traditions.