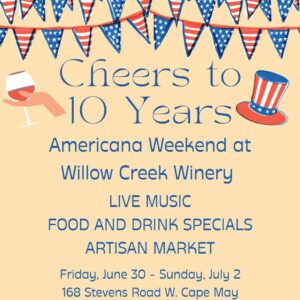 Can you believe that July 4th weekend marks our 10th anniversary?!
A celebration for a moment like this can not be contained in 1 weekend, so join us for 2!
Our Cheers to 10 Years celebrations will be on Friday, June 30 – Sunday, July 2 AND Friday, July 7 – Sunday, July 9 and will include theme weekends, food and drink specials, live music and an open air local artisan market.
Weekend 1 Food and Drink Specials Theme is Americana to help get ready for July 4th.
Weekend 1 Live Music Schedule:
Friday, June 30 from 4 – 8pm with Ear Candy Duo
Saturday, July 1 from 1 – 4pm with Mark Fisher
Sunday, July 2 from 1 – 4pm with Suburban Sensei
We thank you for all your support getting us to 10. We can't wait to celebrate with you.