The nights are cool, leading to perfect growing conditions in the heart of a micro-climate reminiscent of Bordeaux… 
In our section of South Jersey's Outer Coastal Plain wine growing region, the days are warm but the nights are cool, leading to perfect growing conditions in the heart of a micro-climate reminiscent of Bordeaux.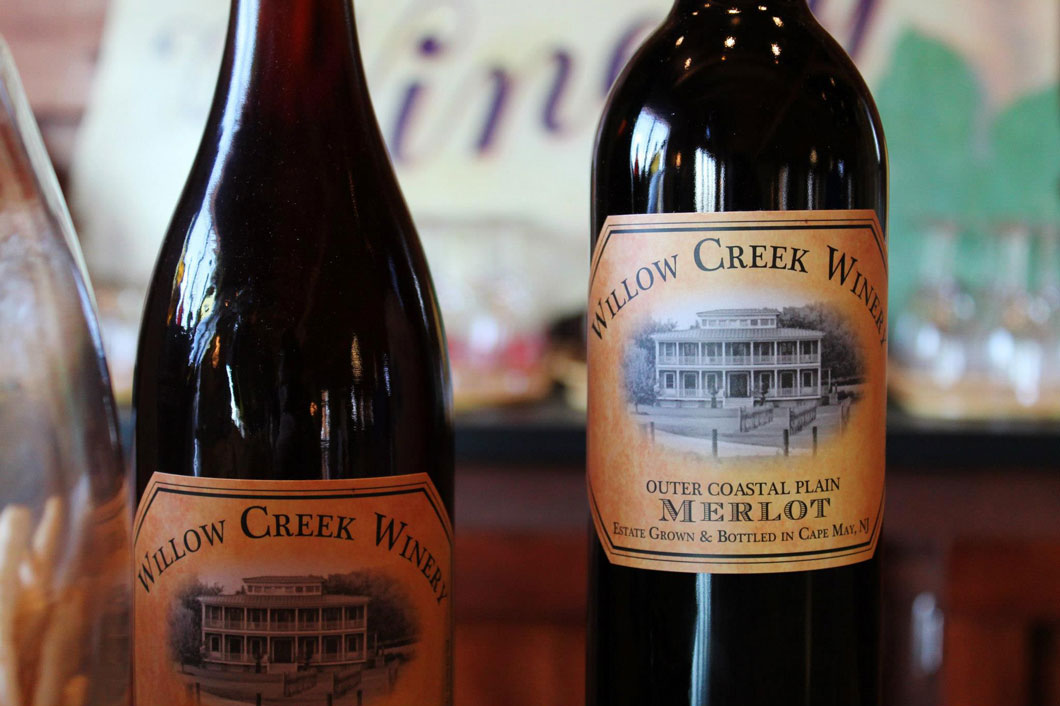 Come in for a tasting and sample our divine varietals of Pinot Noir, Sauvignon Blanc, Cabernet Sauvignon, Cabernet Franc, Malvasia, and Chambourcin! We are truly excited to be finally open to the public. The Vineyards are beautifully maintained and we are installing some truly stellar gardens for touring and leisurely sipping wine while enjoying the surrounding natural beauty. Fifty acres of private perfection is just a few minutes bike ride from the center of Cape May. We can't wait to share our paradise with you! We are Open Daily for Wine Tastings, Vineyard Events, Weddings, Wine-paired Dinners and for Vineyard Tours. Click here to view our full wine list.
Climate here is influenced by the tempering maritime effects of the Atlantic Ocean and Delaware Bay. Spring frosts that could damage buds or the flowering of the vines are rare. Coastal fog and cooler temperatures allow the fruit the time on the vine it takes to develop Willow Creek's signature rich flavor profile.  At Willow Creek we celebrate the terroir of this region, well-drained rich, fertile sandy loam soils that are so highly favorable to an exceptional grape harvest.
Pinot Noir: Willow Creek Pinot Noir is laced with soft seductive dried currant and berry flavors. Enjoy this sophisticated, striking red on its own, or pair with ahi tuna, duck, venison or wild mushroom risotto. A delight to drink!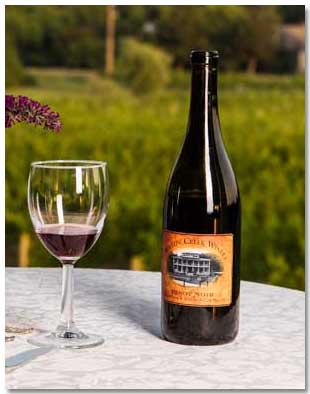 Sauvignon Blanc: Willow Creek Sauvignon Blanc is a refreshing white wine with a citrusy nose and just a tease of garden herb aroma. Enjoy this crisp yet enticing white on its own or pair with Cape May's abundant shellfish, grilled chicken or even aged soft cheeses. Another glass, please!
Cabernet Sauvignon: Willow Creek Cabernet Sauvignon is a well balanced wine with juicy flavors of berry and black cherry. Enjoy this fruit-forward, lightly tannic red on its own or pair with roast chicken, grilled lamb or red sauced pasta dishes. You may want a second bottle!
Bacchus Red: Willow Creek Bacchus Red is a well balanced meritage named after the mischievous Roman god of the grape harvest. It is designed with a medium body and smooth tannins that provide a luxurious mouth feel. Built for drinkability, you can enjoy this beguiling red on its own, or pair it with roast veal, pork, or shellfish like mussels with red sauce.
Malvaisia Bianca: Willow Creek Malvaisia Bianca is a lush and lusty white wine with aromas of honey and ripe pears. Enjoy this crisp vivacious white on its own or try it with sautéed Cape May scallops, grilled vegetables or even washed rind cheeses. Please sir, I want some more!
Meditrina Rosa: Willow Creek Meditrina Rosa is named for the Roman goddess of health, longevity and wine. Blended to a gorgeous blush, this wine is produced with drinkability in mind. Enjoy this easy drinking blush on its own, or bring it along to your beach picnic or next dinner party. It makes seafood come alive!
Merlot: Willow Creek Merlot is a well balanced wine with juicy flavors. Though medium in body, it can pack a punch of fresh berries backed with velvety tannins. Enjoy this seductive fruit-forward red on its own, or try it with venison loin, roast duck or lobster Fra Diavolo.